Designing and 3D Printing Tiny Mascots

We've completed a handful of products that involved some sort of 3D printing in the process of fabrication. This article describes what we wish we knew beforehand and how we found solutions along the way. For reference, we have an
XYZ printing Da Vinci 1.0 Jr
.
From having an educational background in architecture, I spent the majority of my undergraduate designing via CAD programs, specifically
Rhino
. Though I often deviated from the programs in the preliminary design phase and used tools like Adobe Illustrator and
Autodesk Maya
for conceptualizing the "big idea", my design would almost always become a buildable entity with the help of Rhino.
As Marcd has focused more on smaller installation architecture and product design in Rhino, the details of connections and joints have been more important than ever. In the case of designing architectural details such as a floor connection, a general detail can be grabbed offline and applied to most designs. It's more difficult to apply general connection and joint design to product designs because of the many factors that play into the connection you may need to make it functional.
A floor slab usually comes in typical dimensions(depending on the material, span, program below,etc.)
since it's assumed to be flat and meeting all vertical elements at 90 degrees. Products on the other hand have endless possibilities with curvature, undulating shell thickness, material intersections, etc. because they don't adhere to the same basic principles as building construction.
Still similar principles apply to all design. Whether designing a flexible case for a medical device or a four-story educational facility, the solutions are met with the same questions and explored through a similar design process. The beautiful thing about rapid prototyping and small-scale product design is the quickness and accuracy with which you can test and alter the details of a design. This is especially important in fine-tuning how each piece of a design fits together.
Our most recent project involving the design of mascots for ten campsites at electric forest presented a need for a handful of design intervention. Our goal for the project was to design a product that would promote prolonged interest and engagement amongst festival goers. Electric forest is known for its intense lighting installations and vibrantly transformed forest. The overabundance of color in this environment presented a unique situation: white would be the color that stood out the most. So, we began designing a concept for white, 3d-printed eggs that held vibrant objects inside of them. The idea was that the white would stand out in the forest, and entice a passerby to pick it up. As a secondary feature, when two object from the inside of eggs were connected, they would light up. The 'electric' connection seemed fitting with the festival and gave us a rhetoric for connecting festival attendees.
After modeling the object, we designed a few options for the object inside of the egg. Each design played with the possibility of interlocking and housing components to support the object's ability to glow, but none were convincing enough to execute. The idea was pretty static in its function, and we questioned if they would even be found.
We explored a dozen or so new ideas that incorporated the ability to interact with the object. But it wasn't until we realized that our design process was plagued by the misconception that electricity and wiring had to be involved to make this an interactive product. So, we went the no electricity route and explored a list of traits and identities the festival and its attendees has taken on over the seasons. One item on the list was the creation of mascots for each campsite by the campers. Since it was already being done, it meant it was at least something familiar.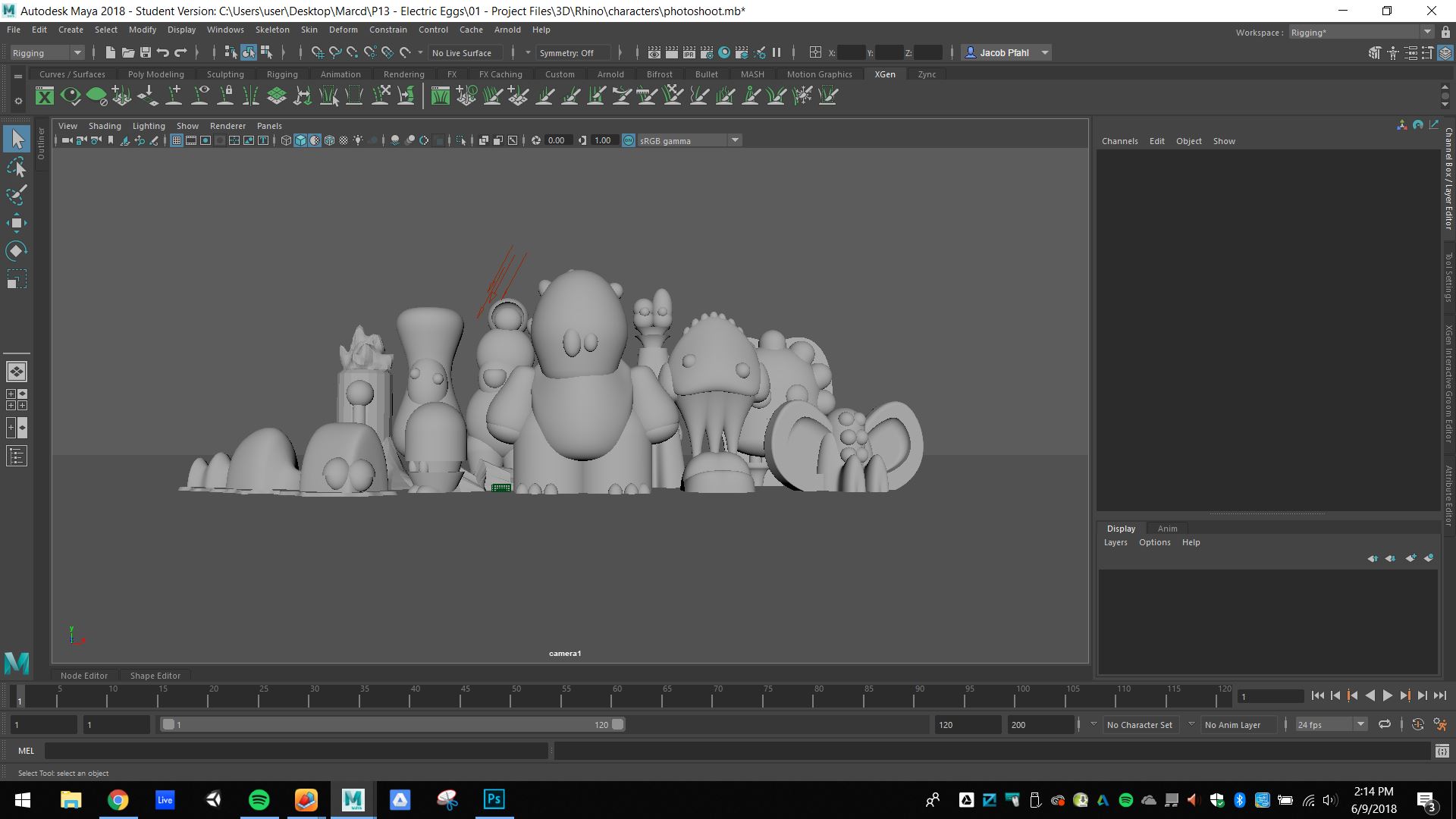 Maya scene setup for our mascot designs
Our mascots were limited to size by the 3D printer's capability as well as our timeline. Each mascot was first sketched in front, side, back, and top views to get an idea of how the object would meet the ground and how supports would need to be built. These designs had little constraints outside of the size requirements. A more complex task was designing the prism that would hold each mascot and its accessories. The prism base would need to be designed to slide in and out to securely enclose its contents it would also need to incorporate foldable legs to support the prism. Our goal for this shell was a product that housed objects inside and out. By including foldable legs, the prism became a suspended roof that mimicked the tents of the campsite. Thus, the mascots were not only identifiable figurines, but a customizable microcosm of each campsite.
The prism was originally designed to be split in half and closed via snap joints. For a comprehensive look at designing joints and connections to be printed,
check out this article
. In order to be efficient with resources, the prism was designed to printed at 1/16" thickness. After printing the snap joints on 1/16" lip, we found the resolution wasn't high enough to accurately snap the joints together. We tested wider joints, longer joints, flex joints, different joint shapes, but nothing seemed to work. Either we increased the designs thickness or we designed a new method of opening and closing the prism.
Flexible Clasp Design
Since we liked the transparency of the
natural PLA filament
when printed at 1/16", we decided to stick with the original design thickness but change the location of the opening. Instead of a prism that opened at its midpoint, we designed a sliding tray base. Next we needed to design a way for the tray to fit securely. We need a simple rail that wouldn't rely on complex joint fitting or snapping because of the scale at which it would be printed. Our solution was to design a base with edges that angled at 45 degrees. This allowed for the tray to slide in and out without succumbing to gravity.
Final tray design


The prism was then cut in half to fit the bed of our printer, sanded and glued together. The base, legs and a few other small details were printed as separate files. We found that cutting portions of the model where the joints were, and printing just those portions allowed us to quickly and accurately test the design of our joints. There always seems to be a better way to design it if you google hard enough, so maybe keep searching? But we hope this saves you some heartache next time you're designing tiny, tent-dwelling festival mascots.
Written by:
Jake Pfahl
&
Malu Marzarotto