Common Place
The exciting loneliness of communal living
Communities exists for various purposes. Neighborhood communities exist for segregation. Creative communities exist for self-validation. Cyber communities exist for diagnosing fears. The above snippets of texts from the Quora community illuminate the dark side of the web's close relationship to a rising plague of loneliness. The anonymous blogger contemplating self-mortality belongs to a community of 42.6 million Americans estimated to be suffering from chronic loneliness.
The traditional structure of Maslow's Hierarchy of Needs has changed with the distortion of human perception. The commonly understood physiological basic needs of air, water, and space, have been replaced by an intangible social desire to connect. Privacy in any form is no longer an amenity through the rise of sharable platforms. These resulting perceptions of a heightened self-awareness positively affects judgment only to negatively mimic the phenomena of a lonely, imminent mortality. Random acts of violence prove that life expectancy is less than expected, and the fear of dying alone is a given. Staying in a home by oneself becomes incapable of meeting the physiological needs of human survival. With random hookups at the swipe of a fingertip, it is irresponsible to remain in isolation. As much as air and water are necessary for human survival, in many cases connection finds itself with greater power over the body's ability to function. Loneliness is now more obvious than ever.
Photo: "Room is small, smells, needs a paint and not really clean. Used, messy toilet paper, unsealed so"
Retracing our steps, it may have been the birth of early inns that act as the culprit of such loneliness. From the inn broke off a constellation of typologies sharing its DNA; the motel, the timeshare, and the hotel. The hotel is peculiar in the sense that it fluctuates for the intended audience, yet remains a double-loaded core in almost every case. The corridor has no identity. The resident may enter without guarantee of returning. It's efficiency accommodates everyone, but its arrangement of living space leaves little room for common areas in which the residents can gather, save entry lobbies and conference spaces. The hotel is an architecture of efficiency and false-luxury. Its top-level suites' vast openness only highlight the necessity of companionship. It's rooftop view only a larger perspective of its dilapidated boundaries. It is reminiscent of loneliness at the communal scale. A confinement of internal thought and anxiety. A room stained by calls made to strangers. A space designed to erase any sense of history and represent the temporary nature of existence. The body consumes fragments of energy delivered to residents when their row-column assignment is called upon. Relic pornography is played on low volume under light low enough to hide similar histories. The toilet doesn't flush.
The double-loaded core disorients its guests and itself with its dizzying repetition.
Yet developers gather at conferences devising ways to increase occupancy rates and combat the AirBnB culture as if it isn't the whole model in which residents inhabit a hotel that needs to be altered.
In response to the exhausted hotel, sharable spaces join the movement of publicized living platforms. The model of transient living that was normally reserved for travel and education dissolves into everyday life. The Ctrl-C, Ctrl-V process of hotel and dorm room space-making, or lack-thereof, is a catalyst to architecturally-induced loneliness - hotels to a greater degree with their often single-style accommodations and view of the abandoned. Through co-living platforms, room design is at the mercy of the host. Transient lodging now exhibits random nostalgia and gives a sense of the clumsy reality of everyday life.
No longer dependent solely on the experiences planned for outside of the living space, the interaction of Host and Guest create distinguished new terms for travel experiences. Reconstructing the idea of an experience to include the period of stay. Living now sheds itself of routine, and in the process, of loneliness. The transient nature of current sharable living provides only a short-term cure to the loneliness embedded in the human condition. Those looking for a permanent solution experiment with pre-existing collective spaces. The culture of shared living oscillates between residential and commercial. Closely following AirBnBs transient trend, services like WeWork offer rent-able office space on various scales. This new typology of workspace transforms the expected internal scenery and external interaction. Before shareable workspace, commercial architecture was often stagnant, forcing employees to spend the majority of their day inside cubicles with little to no peer interaction outside of meetings. Rent-able office space allows architecture to create environments with desired flexibility to meet demands of programs and cultures. Communal gathering spaces give birth to nuclear typologies amongst the working environments.
In the amalgamation of environments, unoccupied commercial space is now treated as rent-able living space. The program of spaces becomes a thing to be determined post-construction and the age-old discussion on form versus function rises to a new level of complexity.
Bedrooms take the shapes of closets. Dining rooms take the shape of conference rooms. . .
Architecture now seems to exempt program. It becomes a shallow accommoPrivate
housing reserves the luxury of privately decompressing. Any member of the household at any given time can opt to shut the blinds and conceal the actions to follow. In the case above, the private home is an instrument for managing feelings. Co-living addresses feeling management with greater complexity. Because it is uncustomary to close the blinds and release one's feelings onto a room of semi-strangers, one must learn to internalize feelings. All individuals are equal, thus all individuals coexist accordingly.
Domesticity in contemporary lives may be forever changed by the commercial market to which it has succumb or, as AYR describes it, its commodification. But to say it's self-conscious of its future is an understatement. Working through the settlement of lawsuits on a daily basis shows a culture not ready to accept the changing tides of the home as we know it. But it seems that the younger generation will be the deciding factor in what makes a house a home. Alexis Dornier's Roam Co-Living project targets the younger generation desperate for an escape without the loneliness often associated with running away - What he calls a method based practice of design. The collection of complexes is built on the idea that the resident can sign one lease and live in any of the Roam sites. But as most co-living communities combat high living prices, at $500 / week, Roam looks to address not the pricing, but the model of co-living. In most cases, apartments are organized around communal space and the result is a once privatized environment that now breeds connectivity. In the case of Roam, the ingenuity lies in both local and global connections. 'An expensive option for Bali but the digital nomads who stay here are all successful entrepreneurs. A good place to meet inspiring people. Some communal food & group activities are included.a socioeconomic trend. Now, the tower incorporates socioeconomic variation. ' - Scott Rogers, Resident.
'If i get the chance to sing there wud be awesome heheheh ' - Dee Wirkus, Hopeful Resident.
'I feel the flat is not really a two bedrooms. The air conditioning in the bedroom is really noisy (need servicing) hence we didn't use it but using the manual one. The air conditioning in the kitchen needs to be raised a bit. The flaps keep getting caught in the door. The flat is on the main highway and it's 24/7 noisy. This isn't highlighted.
Owners needs to state that towels and all toiletries are available/provided at the flat. We could do with more pots and pans, large bowls and plates. There's no instructions given on all equipments in the house. All in all it's an easy accessible location. Nice flat it's definitely home away from home. Owners very accommodating.' - Yuki001xx, Resident.
ON, keen to the idea of intentional communities at a relatively small scale, develops co-housing apartments in Yokohama. Each apartment takes the form of a triangular volume that offers private living space to the residents. Their orientation offers a view of the exterior environment as well as the communal courtyard around which each apartment revolves. The courtyard features an outdoor kitchen accessible to all residents as well as a washroom and storage space. These communal courtyards act as a pivotal component in the creation of a sharable environment.
Grayson Perry and Apparata's House for Artists aggregates units again around the nucleus. Though most aspects of this project hold true to the typical co-living structure, it deviates in the sense that all 15 artists will be hand chosen by the developing team - a subtle nuance to its design but an aspect that proposes individual identities to each community. If communities were before defined by the people that congregated in a given area, contemporary communities now exist at a molecular level.
This molecular community in particular replaces feud with lust. Self-validation lacking in the artists work is made up in the transient partnership that develops a lax display of admiration - testing the extents to which the sharable community can exists.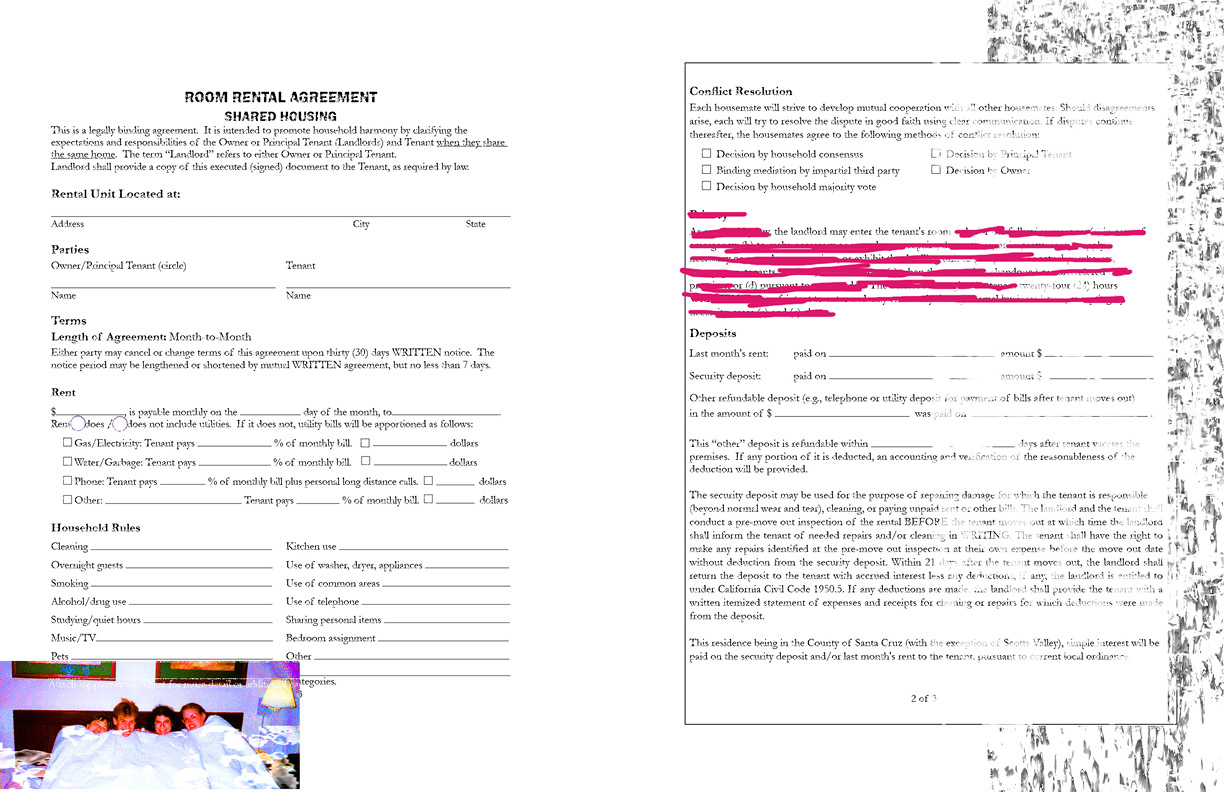 The result of co-living is a hyper-inclusive architecture of communities connected to such a high degree that it rids the world of loneliness. In doing so, its lucid devaluement dampens the nuclear pulse. The world barters dark individuality for a chance to belong to anything and anyone. Architecture's ability to inhibit immorality takes a new stance of passivity. The youth, of course, resist, but communal spaces continue their multiplication as cellular complexes insist. "As a child I had a nightmare so terrifying that my parents had to lay in the doorway to my room until I feel asleep - a thing of the past." - Dev, Communal Liver Architecture is an heir to the role of the host pre-co (pre-co-living). With only two components left po-co (post-co-living), the nuclear communal space and the revolving flex space, it could be proposed that a robot of sorts would take the form of an omniscient
Resident Assistant if there ever was any push-back by the residents to vocalize a disagreement on who gets what, when, how, etc. But now that loneliness is out of the picture it's difficult to imagine any complaints. 'I'm feeling a night-in. Hear me out! Okay, we binge watch those old movies about couples who fell in love with just one person.' Tracy, Communal Lover. Currently, 1,539 groups under the Fellowship for Intentional Community organize the transformation of co-housing arrangements. No one's talking about its sub-committee, the Fellowship for Intentional Relationships, for the obvious reason that it has yet to form a concrete existence, but its tendency to be ignored is reason for concern. In its formation could lie the very key to a civilization of people agreeing upon the expulsion of loneliness and jealousy simultaneously. Both traits are inherently conflicting, but an architecture without privacy leaves nothing to the imagination, thus it makes no spatial suggestions of appropriate coupling. The omittance of spatial property, doors, and locks empowers the individual's decision-making, and more importantly makes any decision as much an individual choice as it is a choice of the group i.e. the group now possesses the ability to intervene when it is deemed necessary.
'You never know what happens behind closed doors . . . because we got rid of our doors.' - Taken from Community Springs 2070 Development Instagram bio.
We are also in agreeance to let you know that Fall 2070 leasing is now available.
Careful diagrams of architectural space-making have long-driven a world designed to be exceptionally articulate of the human body's rhythm and proportion, but as society now suggests, masked the reality of imperfection. The user is no longer tolerant of a masked reality. Instead, the user suggests that laborious hours spent isolated in cavernous 3D programs so close to web-pages of 'inspirational' projects with which one can argue Fair Use by cutely renaming a carbon copy are replaced by drawings focused on a system that optimizes an environment left to the users to share about within. It is a mere shell of space in a process of dissolving its dichotomy to lend its internal community full control of one another, equally, inside one common place.