The Evolution of Music Festivals and the Power of an Experience
What if we told you a remote forest in Rothbury, Michigan and an abandoned USPS warehouse in Houston, Texas could have more in common than you think? In appearance, maybe not. At least not as long as they are functioning in the way they were intended. But when considering these two locations as blank spaces, both present opportunities to create a powerful experience.
1956 Newport Jazz Festival (Newport, Rhode Island)Photo by Paul Hoeffler/Redferns
THE BRIEF HISTORY OF MUSIC FESTIVALS
The festival is a rapidly expanding trend of programmatic modifications. Prior to becoming the mainstream commodity so adored today (
Learn more about the 32 million people attending festivals in the United States alone
), festival origins can be traced back as far as 6th century B.C. with ancient Greek gatherings music and competition. The term "festival" first showed up in the English language in the middle of the 16th century, derived from "feast" and most often centered around the harvest. In 1952, the
Newport Jazz Festival
was founded in Rhode Island, marking the inception of festival culture to the Western world. 13,000 people attended the festival to hear jazz, gospel, and blues performances by well known singers like Billie Holiday and Ella Fitzgerald.
The Newport Jazz Festival, with its educational morning summit and evening music, was still associated with countercultural youth movements. Those living in Newport at the time could not believe that their youth would be willing to sleep in tent or public parks. This disbelief continued when in 1959 a sibling festival, the
Newport Folk Festival
, was launched. This festival was made famous when Bob Dylan decided to play electric- a moment that marked a change in pop culture and introduced the rock 'n roll revolution to folk audiences.
(You can watch this moment here)
In 1967 the
Monterey Pop Festival
was created in California, marking the first festival in the United States that was conscious about the experience outside of the music. As described in an
article by Everfest
, "its original incarnation harnessed a moment in time so perfectly that it pioneered the "you had to be there" vibe modern music festivals now strive to embody." The reported attendance of this festival varied from 25,000 to 90,000. Regardless of numbers, the festival kicked off the "Summer of Love" and strengthened a powerful social movement. It was not only about the music, but about the experience that made America's youth want to converge around this new culture.
2012 Bonnaroo (Manchester, Tennessee)Photo by C. Taylor Crothers/FilmMagic
1968 Milwaukee's Summerfest is created. The festival takes the record for the most attendees at a North American music festival, drawing 1,000,000 people over 11 days.
1969
Woodstock
took place. This moment changed festival history as corporate interests realized the
financial gain that could be presented by festival culture.

1990 Burning Man was founded as "a free-form expression of community and creativity manifested through music, art, installations, social experiments and good ol' fashioned revelry."
Fast forward in time towards the end of the 1980's...
At the end of the 1980s, the fall of the Berlin wall opened up the world to the building
electronicism of techno,
but it was the social movements happening in the United States ––
House from Chicago
and New York,
Techno from Detroit
that influenced Europe's growing rave culture. The incorporation of electronic music into festival culture was a long progression that originated in the early 90's. (We recommend checking out
this article by MixMag
for video documentaries about the rave culture). For a Brief history of rave culture, check out the article by History Plex,
What Exactly is the Infamous Rave Culture? Origin and History.

It wasn't until the turn of the millennium that rave culture was commercialized and brought into festival culture. The result brought environmental aspects of the rave scene, laser lights, artificial fog, and costumes, to traditional festival culture.
2011 — Electric Daisy Carnival (Las Vegas, Nevada. Photo by Denise Truscello/WireImage)
THE IMPORTANCE OF EXPERIENCE

A study by
Harris Poll
and Eventbrite highlights the extent to which millennials value experience and access over ownership: 78% would rather pay for an experience than material goods, compared with 59% of boomers (born 1946-1964).
The commercialization of festival culture increased revenue streams for festivals, allowing them to spend more on supplemental experiences that brought in crowds. Festivals began to consider the ways in which they could transform their festivals, wanting attendees to become fully immersed in a new environment. In the early 2000s, festivals began to form that labeled themselves Music & Arts, creating side channels of activities and amenities such as yoga, gourmet food, installations, actors, and other special features to differentiate themselves from the other growing festivals. Companies were formed to specifically transform a traditional festival into a memorable themed experience. Music alone would not be enough to compete with top festivals.
COMPARING FESTIVALS

Whether a festival is built on a natural landscape or a man-made structure, it dramatically transforms its existing site to adhere to its proposed theme. The beauty of a festival is its ability to redefine its surrounding architecture and create a world of its own. This new world, draws in crowds longing to escape, lost in the music, art, and overall atmosphere. But a festival is more than just a nicely designed set erected as a temporary urban or rural facade. It takes into account an array of variables that define its experience and challenges the constraints of reality.
The competition fro
m
an oversaturated market
has pushed the industry to start asking more questions surrounding the future of the festival environment and what that might mean for other industries such as art and technology.
Day for Night,
a music festival created in 2015, bases its experience as much on the integration of art and technology as much as it does music. As listed on their site, "Day for Night is a visually immersive art and music festival exploring the boundaries of light, space, and sound." The result of this festival burns a futuristic impression that leaves attendees with plenty of open-ended questions to take back to their own professions and conversations.
Photo- Charles Reagan Hackleman
One of our favorite installations at there were the choreographed industrial-sized robots created by
VT Pro Design,
the tech driven design studio out of California. The idea behind the installation, as taken from the studio's page, states:
At its foundation, the installation was an exploration of the absence and presence of light and how it defines a space. The team wanted to play with dramatic scale, and to do so they employed two Kuka 210's as Robotic Conductors, wielding large, fabricated geometric shades to manipulate the various light sources and cast brilliant arrays of graphic shadow work throughout the space.


Conceptually, we wanted to recreate one of the ancient world's most sought-after immersive experiences, invoking a ritual that harnessed the spiritual forces of nature to create a transformative experience. This ritual was housed in a darkened chamber called the Telestron, deployed cutting-edge robotic and light projection technology to bring the audience into an experience of the diurnal cycle (sunrise, noon, sunset, and midnight). In other words – a complete Day for Night.

The result: two elegant robots dancing in-sync to an eerie crescendo via a bright beam of a light. There was something so mystifying about the mechanical tango that argued for a new kind of programmed romance. Maybe it was the surprising grace of these industrial figures or the suspense of what such powerful machines might do next. Whatever it was, it has paved the way for a fantastic breed of refined robots capable of existing in a range of environments.
Day for Night's gritty and experimental nature is similarly reflective of its industrial environment. Hosted in Houston, Texas, Day for night is housed inside a historic post office warehouse.
The 1.5 million square foot indoor-outdoor space is made up of four stages and a series of art installations scattered throughout the venue. While this setting allows for an unpolished, raw experimentation, the Day for Night experience is cut short by the venue closing and the attendees forced to return to their temporary houses until it re-opens the following day. This is where Day for Night lacks, and another popular festival, Electric Forest, excels.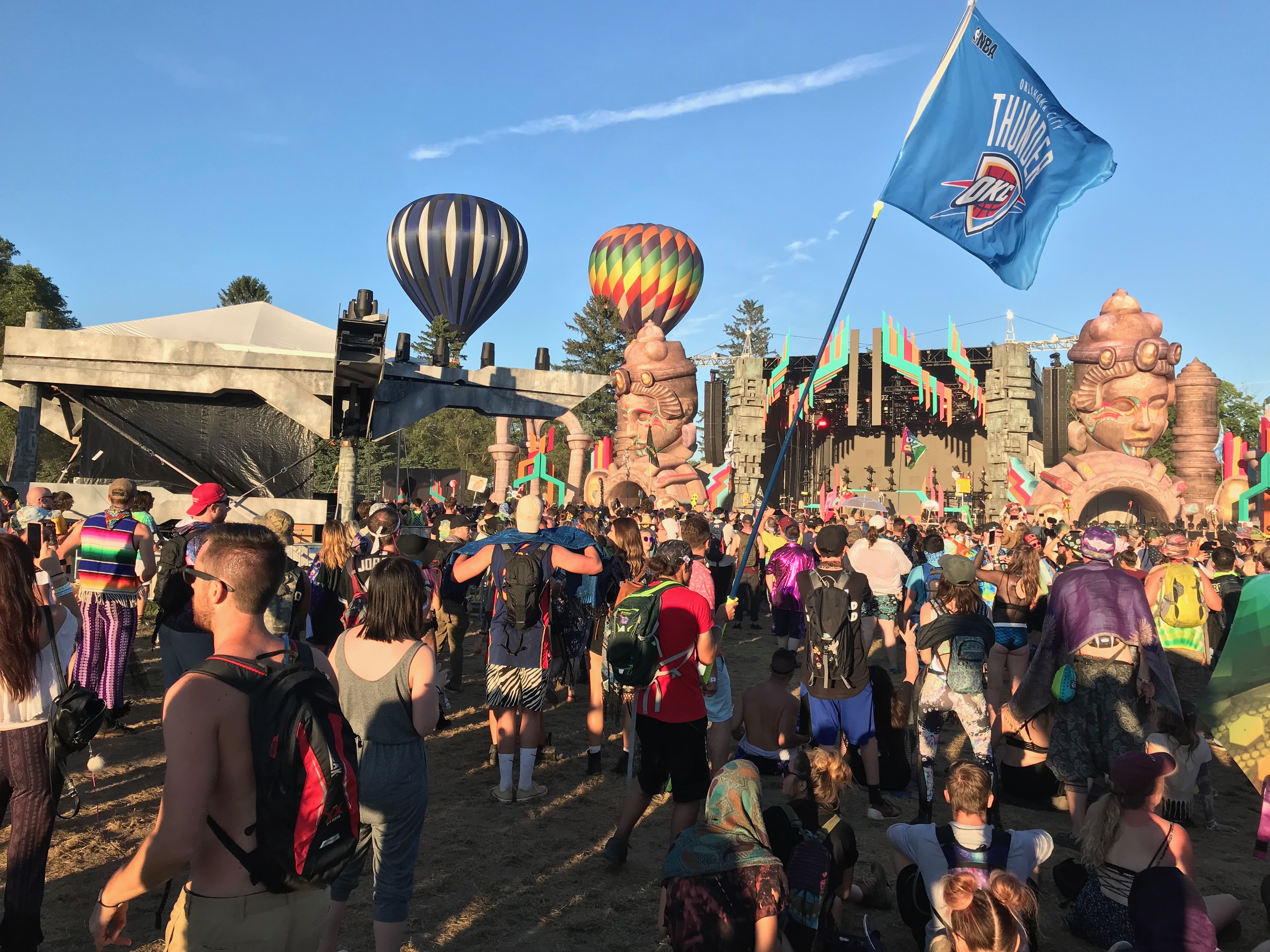 Shots from Electric Forest Weekend 1 2018


Electric Forest
, created first in 2008 as a jam band/ rock festival and later in 2011 re-born as an electronic festival, is an eight-day, two-weekend, multi-genre event designed around the idea that attendees with be completely immersed from start to finish without interruption. This perpetual experience is where a community thrives. Bonds are created in the campsites and strengthened in the forest. The festival markets themselves as a family, using #forestfam and creating content that further conveys that message.
If Day for Night is a gallery, Electric Forest is a ritualistic gathering.
What starts to happen across days of camping is a shift in focus from the content of the festival and installations to the personal interactions and experimentations heightened by psychedelic extracurriculars.
The experience of Electric Forest is one that caters to the group; reacting to its perpetual nature.
The Hanger,
one of the festival's stages, is a perfect illustration of the festival's attitude. Emerging from the forest in the center of a large clearing is a barn re-imagined as a mid-century Home to fighter jets. 8 themed spaces bordering the hanger offer services from tattooing to car-buffer massages to a pool hall home to a shark that will surely strip you of any pride with which you may have entered - each made possible by committed characters that render the outside world transparent. At the back of the hanger is a stage where you can hear DJs mixing vintage swing, a quartet playing their interpretation of vintage swing, or a woman teaching booty classes to vintage swing. All the while surrounded by palm trees and bright lights reminiscent of the big band era in a tropical fantasy.
The Tattoo Parlor inside of the Hanger
The beauty of the Hanger is not only its passionate commitment to the theme and its flawless execution of the sets, but the experience that ties it all together. By visiting the travel agency, you collect a ticket that starts you on a quest to gather stamps around the forest. The end reward when all of the stamps are collected, is an underground world of speakeasies and VIP treatments. Just another way that Electric Forest promotes personal interaction and engagement.
One of our favorite installations outside of the hanger was the interactive tree stumps. It was hidden on the outskirts of the bare trees next to an old phone and a piano. Glass domes sat atop severed trunks that asked for little attention. At first, it seemed they were static microcosms with miniature recreations of plants and ponds. But upon touching the domes, they burst with color. So we hit another, and it too flashed for a moment. Each time it was touched, the dome would emit a neon glow. After just a few seconds of us playing with the domes, others joined the circle. Without having to say a word about what was unfolding, others visual curiosity drew them in, and we were soon accompanied by eight strangers (including two police officers) that sat around a neon drum circle smiling in wonder. It was the most beautiful and illustrative moment of the festival that proved the festival's potential to execute the growth of community via the integration of technology.
Creating our Community-Oriented Festival Experience

Running an experiential design studio ourselves,
Marcd
, we saw this as a perfect opportunity to create an experience of our own. We focused on the idea of community and the idea that a majority of the time was spent at the campsites. But outside of the forest, there were few opportunities to engage with others. So, to create a community amongst the campsites, we created Impeez; 10 tiny mascots for select campsites.
Maya Arnold Render of the Impeez gang
Each Impy takes on a persona that reflects the personalities found at Electric Forest and represents the entire campsite. We first started by sketching the characters as whimsical imps of the forest. After we finalized the ten characters, we modeled and rendered them in Maya, and optimized their forms in Rhino to be 3D-printed. Along with each mascot, we designed accessories to supplement their personalities and modeled those as well. The final design was a hollow prism that would carry all of the contents and transform into a tent for the Impy to camp amongst its fellow campers. After printing the characters, accessories, and prisms, we hand-painted everything and assembled them to be distributed.
Aside from the impeez and their accessories, we designed cards for each that listed their actions and how it would benefit the campsite. An Impy could be a character that represented the people in the campsite, or could be a personality that campsite lacked and wanted to round out the whole. We walked around the campsite in the morning before the festivities began, and approached ten campsites to choose a mascot. The most exciting part of the project was interacting with the campsites as they read each of the character cards and decided which one best reflected their campsite. Throughout the festival we came in contact with people from each campsite and they shared photos of where their Impy had been.
Though it was received well by the Impy campsites, this project wouldn't be successful in a setting like Day for Night because
it focused less on the questions it was asking and more on building upon the idea of community.
A festival like Day for Night that focuses on challenging contemporary ideologies presents a stark contrast to Electric Forest. If we had more time and resources, we would have taken a route similar to the interactive tree stumps – bridging the gap between the community driven Electric Forest, and gallery-style Day for Night. The stump's success pivots on its ability to attract through curiosity by the use of technology that's relevant to its environment.
The festival is a continually evolving reflection of cultural ideologies, just a few years in the future of the time at which it takes place. Because it often lives so far outside the boundaries of reality, it demonstrates what could be. Between the people that create the community, the installations that create the experience, and the existing site that is forever transformed, it remains a utopia in which we can, if only for a few days at a time, experience a better world. Throughout that small window of time, it takes a multitude of forms: a new or familiar world, an escape or reprieve, a fantasy, a community. But its most important function is its tendency to constantly challenge contemporary norms, techniques and methods, and cultural views. As the demand for these festivals grow, it's important that we continue to use it as a platform for asking questions and modeling future interactions between music, art, and technology.
Our goal at Marcd is to experiment with how the human experience can be enhanced through digitally manipulated environments. By oscillating between real and virtual, it begins to question the physical existence and engage a larger audience. We're most interested in the tendency to share a bizarre physical experience and how these new 2.5-dimensional spaces can push the boundaries of how we understand the built world. Through experimenting with space-making, specifically in the urban setting, we can begin to bridge cultural gaps and connect currently disconnected networks.
We're excited to be a part of such a time that embraces experimentation with the surrounding environment and look forward to making you feel a little bit uncomfy in hopes of changing your minds about the spaces in which you inhabit.
References:
https://www.everfest.com/magazine/a-brief-1000-year-history-of-music-festivals
https://www.jwtintelligence.com/2016/03/the-future-of-festivals-and-experience/
https://www.huffingtonpost.com/2014/05/24/music-festival-photos_n_5374363.html
Written by:
Jake Pfahl
&
Malu Marzarotto