Top places in Columbus, Ohio for Designers and Freelancers to Work
Finding a productive place as a freelance designer is difficult, especially in a city like Columbus that is still growing. There's a high demand from designers for a productive work spot that exists in each niche market, and caters towards the unique needs of those specific design industries e.g. an internet connection for web designers looking to quickly test, table space for illustrators to freehand, group seating for collaborators, etc. And then there are the general amenities every freelance designer looks for like natural light, ambient (non-interruptive, or, for the masochists, abrasive) noise. For multidisciplinary designers like ourselves, we need a place that satisfies all the above.
Coworking spaces are a common trend in today's work environment. But it's a trend we see as being somewhat permanent for the foreseeable future. Upwork sites that
freelancers increasingly think that having a diversified portfolio of clients is more secure than one employer.
They also state that
54 percent of the U.S. workforce said they're not very confident that work they do will exist in 20 years.
The idea of AI taking over is a real fear and what seems to explain why a designers portfolio is becoming more and more diverse. Considering the accessibility of the design tools and design resources for perfecting one's craft, it's not as difficult as it used to be. Hence, the design industry transitioning from studios with singular design specialties, to multidisciplinary studios that truly specialize in multiple areas of design. This seems to be the only way defend against AI's imminent ability to offer responsive design. If you want to read more on whether or not you'll lose your job in in the next few years,
check out the list here
. Lucky for Marcd, most of our services fall under the 10% probability (architectural design 1.7%, graphic design 8.2%, product design 3.7%). Surprisingly, the more technical side of design risks a better chance at handing over their jobs to robots (computer programmer 48%).
The promise of designers still existing by 2050, especially multidisciplinary designers that exist across multiple fields of design, is what leads us to believe the coworking atmosphere is less a trend and more a forecast. So, if this isn't relevant as a guide for good places to work as a designer, it may serve as a call to action to create a new home for wandering designer.
Though Marcd continues to grow as a design studio, we feel the rising cost of renting a studio still doesn't fit into our business model. We primarily design in a digital world; our laptops are our main tools for creating. We have a
3D Printer
, so most fabrication and test design models are created 'in-house'. Ikea optimized our efficiency by creating a
hyper-affordable, hyper-wide desk
for allowing us to illustrate, collaborate, etc. 'in-house'. Maybe it's that we feel obligated to design a workspace solution that meets all of our needs because that subconsciously validates our worth in the design field, but we verbally attribute our refusal to buy a space to being the most financially sound option. Coworking spaces are really just coffeehouses and furnished warehouses that exploit the adolescence of the term to attract customers.
WeWork
tends to do it better, but most local startups are subpar in their experience as of now. A coworking space should be an amenity of a space that has a separate primary goal or function. An effective implementation of this secondary amenity can be found at
ArchAll
's new architecture and design office. The new offices feature open design studios for the architects as well as a storage space converted to rentable coworking space. The space's location is on the east side of the building, so it's flooded with daylight. It's also far enough removed from the flow of the architectural design studios so they reserve a private atmosphere, but their proximity being inside the building itself allows for those coworking to collaborate with the architects next door.
If Marcd ends up in a shop out of which we design for the day, guilt drives us to spend money on something. Thus as a developer or entrepreneur considering creating a restaurant, coffeeshop, or generally developing an unused warehouse, it's best to start with the idea of creating a space that attracts designers and collaborators. Even if it's a small addition to the main program of the overall architectural design, if it manages to satisfy what designers look to find in a work space, it could be grounds for a long-term venture that grows in unexpected ways.
Here are some tips from a multidisciplinary design studio for the design aspects to consider when designing a space for designers and freelancers… with a focus on design… :)
Natural Light: Exposure to natural light is proven to increase efficiency in the workplace and improve quality of life.
According to Cohere
, workers in offices with natural elements were found to be 15% more creative. That's kind of vague, but as designers we'll take it.
Ambient Noise:
According to an article published by 99u
, Researchers found that those exposed to a moderate level of ambient noise significantly out-performed those in the other groups.
Here's a great web application we found while researching that can supplement whichever environment you choose.
Seating: Creativity is dependent upon the details of the space including the furniture you sit in while designing.
In a conversation between Quartz and creativity research, Keith Sawyer,
Keith claims that It's not about the chair itself, it's about the patterns of social interaction that are fostered by the chairs and the spaces.
Proximity: Close proximity to colleagues or peers can increase work productivity, and general mood.
An article published by Business.com
claims that coworkers are 74% more productive.
Outdoor Seating:
According to an article published by Medium
, those who work outside, or those with access to take breaks outside, increase their short term memory by 20% among other things.
Outlets: There's no data we found to support our argument for a lot of outlets, but, it's important.
Wi-Fi: If you're looking to do really any type of work on a computer. Designing in programs always means a few youtube tutorial searches. If you're developing websites or applications, you'll probably need to test. There's an initiative in Columbus for Coffee shops to stop offering wi-fi and encourage more conversations. In theory, it's a nice idea, but it's too easy of a solution to just eliminate the 'problem'. We think if the experience is designed well enough, you can continue to offer wi-fi and still see a return of customers looking for conversation. In the meantime, we embrace the hot-spot.
Marcd has recently been multidisciplinary in the sense of how many different spots we use to work. From our tour around columbus, here are the Marcd top places in Columbus, Ohio for designers and freelancers to work and meet:
Dough Mama
Location: 3335 N High St, Columbus, OH 43202
Wi-Fi: nah
Outlets: enough
Noise: medium conversations
Light: high natural light
Seating: small tables and large tables
Outdoor seating: ye
Proximity to others: average
Bread & Flowers
Location: 3748, 3870 N High St, Columbus, OH 43214
Wi-Fi: nah
Outlets: not enough
Noise: medium to high conversations
Light: high natural light
Seating: small tables, large benches
Outdoor seating: ye
Proximity to others: close
North Market
Location: 59 Spruce St, Columbus, OH 43215
Wi-Fi: ye
Outlets: enough
Noise: medium to high conversations
Light: high natural light
Seating: 2-4 person tables
Outdoor seating: nah
Proximity to others: average
Fox in the Snow
Location: 1031 N 4th St, Columbus, OH 43201
Wi-Fi: nah
Outlets: not enough
Noise: medium conversations
Light: high natural light, operable garage doors
Seating: tables
Outdoor seating: nah
Proximity to others: close
Global Galleries
Location: 3535 N High St, Columbus, OH 43214
Wi-Fi: ye
Outlets: enough
Noise: conversations
Light: high natural light
Seating: small and large tables
Outdoor seating: ye
Proximity to others: average
Columbus Public Library
Location: 1423 N High St, Columbus, OH 43201
Wi-Fi: ye
Outlets: enough
Noise: low conversations
Light: high natural light
Seating: tables, private rooms
Outdoor seating: nah
Proximity to others: average to far
Trism
Location: 1636 N High St, Columbus, OH 43201
Wi-Fi: ye
Outlets: enough, if you can get them open
Noise: low conversations, really loud top 40
Light: high natural light - operable garage doors
Seating: small tables, high tops
Outdoor seating: ye
Proximity to others: average
Stauf's at the Idea Foundry
Location: 421 W State St, Columbus, OH 43215
Wi-Fi: ye
Outlets: not enough
Noise: low conversations, coffee shop playlist
Light: high natural light
Seating: small tables
Outdoor seating: nah
Proximity to others: close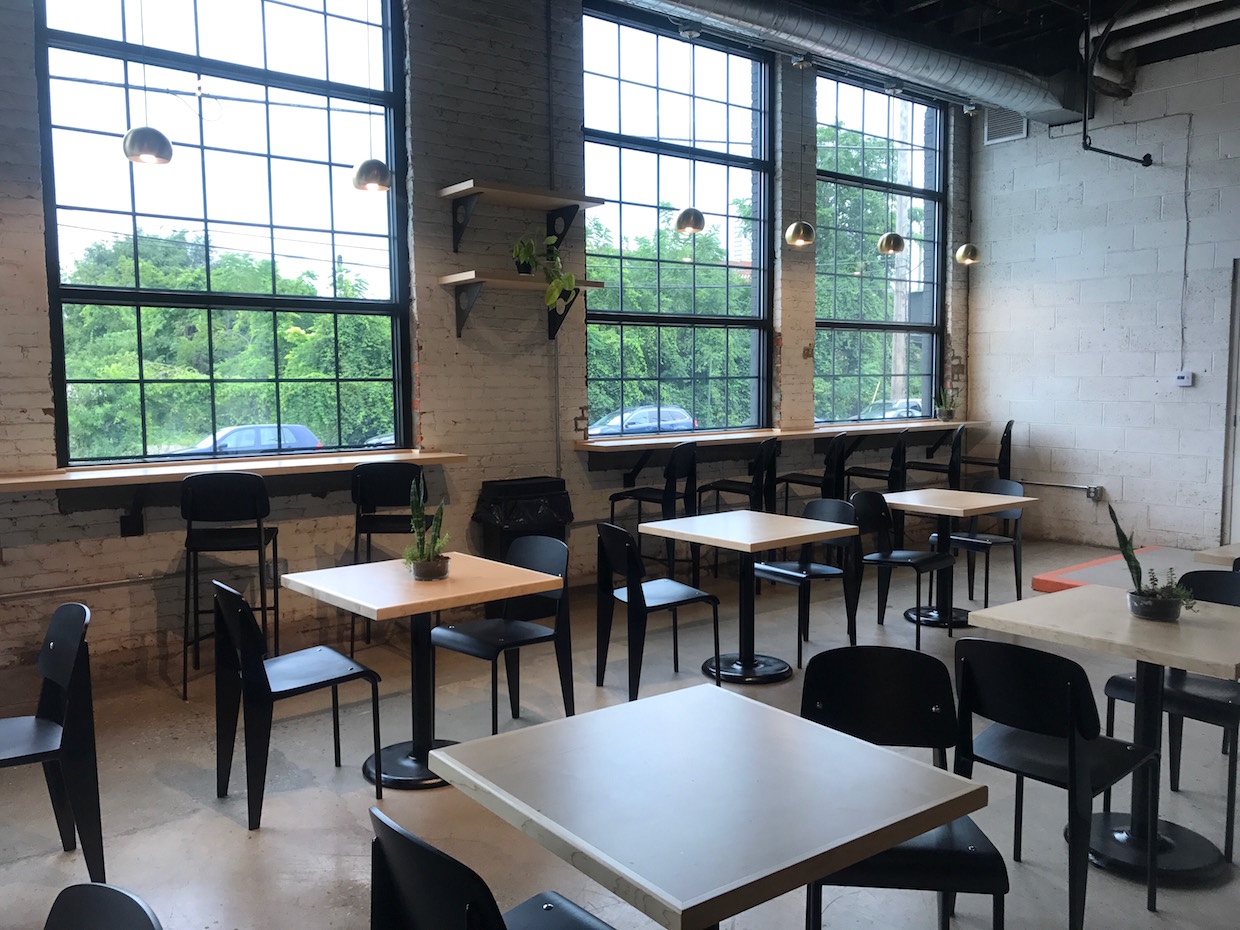 The Roosevelt
Location: 1814, 300 E Long St, Columbus, OH 43215
Wi-Fi: ye
Outlets: enough
Noise: low conversations, record player
Light: low light - tinted windows
Seating: small tables
Outdoor seating: nah
Proximity to others: close
Written by:
Jake Pfahl
&
Malu Marzarotto